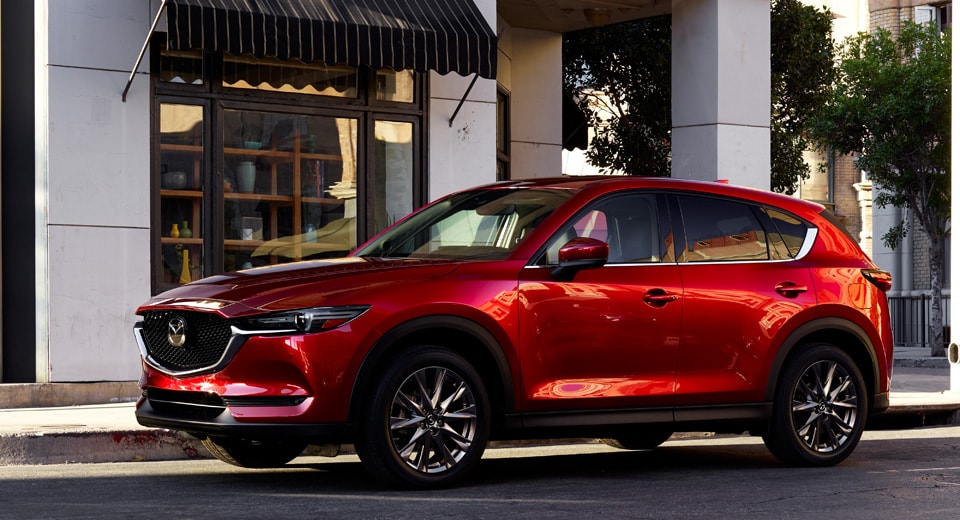 THE NEW MAZDA CX-5.

It was time to take a stand. Time to challenge the convention that says efficiency must come at the sacrifice of driving excitement. The Mazda CX-5 is our declaration that incredible fuel economy and uncompromised driving performance can coexist, that bold can also be sleek and aerodynamic. It embodies the entire philosophy of SKYACTIV® TECHNOLOGY, which reimagines every component from the ground up to work together in unprecedented harmony. More than a compact crossover SUV, the CX-5 is a call to drivers to experience the power of an entirely new way of thinking.

UNRIVALED INNOVATION.
The CX-5 Crossover features these and many more accessories. Contact one of our Mazda sales specialists for more information.
 Navigation System
Fully integrated and SIMPLE to install (20 minutes, NO dashboard removal), our Navigation System gives any CX-5 with a 5.8" color screen the same state-of-the-art navigation system as that found in the GT Technology Package.
 Paint Protection
Developed specially for Mazda, this automotive-grade clear film provides virtually invisible protection against paint damage from rocks and other road debris. Available for Door Edges, Rear Bumper, and leading edge surfaces with our Front Kit. Door Edge and Rear Bumper paint protection can be easily installed at your dealership while the Front Kit price includes installation by a certified 3M installer. See the attachment for more details regarding installation and warranty details.
 Hood Edge Protector
Designed for both form and function, the Hood EdgeProtector integrates seamlessly with the design of front end, lying flat against the vehicle hood. It protects the leading edge of the hood against damage from road debris.
 Side Window Deflectors
These all new and sleek deflectors blend in with the existing vehicle trim giving your customers a way to let fresh air in without exposing their interior to the elements.
SkyActiv Technology
SkyActiv is Mazda's holistic, ground-up approach to re-engineering each component for the ultimate in efficiency, performance and lower emissions. Because when you change everything, you change everything.

KODO "Soul of Motion" Design
The design was inspired by the predatory stance of an animal stalking it's prey. The KODO design captures the essence of poise, aggression and power. Though, the curves go beyond aesthetics; each detail was sculpted to slip through the wind with the least possible resistance.
Blind Spot Monitoring
So you don't have to obsess over safety.

Get yours today at Borgman Ford Mazda.